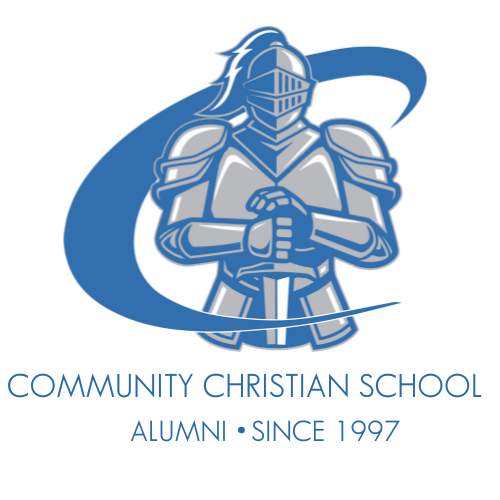 Greetings from your alma mater! As we look back on the cherished memories and experiences that have shaped our lives, we invite you to reconnect with the blue and black spirit that unites us as members of the Community Christian School Knights Alumni Association.
Whether you roamed the hallways of our beloved institution a few years ago or several decades ago, your journey as a Knight has left an indelible mark on our school's history. We take immense pride in the accomplishments of our alumni, knowing that each one of you has ventured into the world equipped with a solid foundation of faith, knowledge, and character.
As a Community Christian School Knight, you are part of a legacy of excellence. We celebrate the successes and contributions of our alumni, not only in their professional endeavors but also in their commitment to serving others and making a positive impact in their communities. We encourage you to reach out if you are interested in sharing your experiences as an inspiration to current students, or if you need support and guidance in your own endeavors. Together, we can continue to strengthen the bonds that make our alumni community thrive.
May the spirit of the Community Christian School Knights always reside in your hearts. We look forward to hearing from you, seeing you at our upcoming events, and celebrating the accomplishments of our alumni community.
Go Knights!
Community Christian School Knights Alumni Association
Senior Sunday Recognition-Community Bible Church
May 20, 2023, at 9:30am or 11:00 am 
Knights Bonfire and Homecoming Game:
October 13, 2023, at 7:30 pm
Flapjacks on the Field
October 14, 2023, at 11:00 am
Joey Ashley, a 2018 graduate of CCS, recently accomplished a significant milestone by earning his biomedical engineering degree from Georgia Tech. His dedication and hard work have paid off as he prepares to embark on an exciting internship with the Department of Defense in the National Security Innovation Network. Notably, Joey had a remarkable secret during his time at Tech: he served as the beloved mascot, BUZZ, for all five years without revealing his true identity until his graduation. His mother, Angela Ashley-Caparole, proudly captured the memorable moment when BUZZ carried Joey on his back across the stage to receive his well-deserved diploma.